Weaver Mounts Tactical 1" High 1"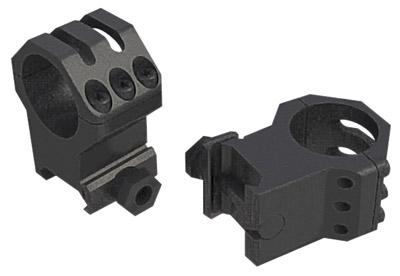 | | |
| --- | --- |
| Available | At Warehouse |
| MSRP | $5395 |
Weaver Mounts Tactical 1" High 1" Diameter Matte Black
Weaver's popular 6-Hole Tactical Rings just got the Picatinny treatment. These rings feature the same six screws for max security and clamping pressure but get serious upgrades for LE and military use. An improved Picatinny crossbolt design (from Weaver to Picatinny spec), Type III hard coat anodized finish, no strip/slip Torx screws and an increased number of height options make these 6-hole rings the go-to mounts for all Tactical Precision rifles. Special-purpose tactical equipment requires specialized mounting hardware to install model-specific scopes and sights. Or utilize the bases to add-on other accessories to your tactical weapon. Whatever your requirements, the complete systems are skillfully designed and built to the exact, military-grade specifications.
Also available...
| | |
| --- | --- |
| | Tactical, 1", Medium |
| | Tactical, 1", XHigh |
| | Tactical, 1", XXHigh |
| | Tactical, 30mm, Short |
| | Tactical, 30mm, Medium |
| | Tactical, 30mm, High |
| | Tactical, 30mm, XHigh |
| | Ring, 1" Med, Matte |
| | Ring, 30mm Extra High, Matte |
| | Ring, 30mm Low, Matte |
| | Ring, 30mm Med, Matte |
| | Ring, 1" Extra Extra High, Matte |
Item Info
| | |
| --- | --- |
| Item | 23080-2 |
| UPC | 076683996893 |
| Brand | Weaver |
| Model | Tactical |
| Mfg No | 99689 |
Tech Specs
| | |
| --- | --- |
| Type | Tactical |
| Size | 1" |
| Height | High |
| Tube Diameter | 1" |
| Finish | Black |
| Style | Picatinny |
| Style Description | Tactical |
| Purpose | Hold Scope |