Weaver Mounts 2-piece Base Marlin, Moss,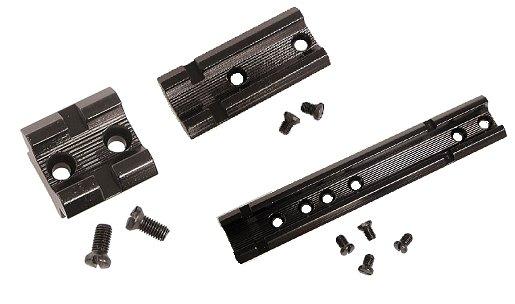 | | |
| --- | --- |
| Available | At Warehouse |
| MSRP | $495 |
Weaver Mounts 2-Piece Base Marlin, Moss, Savage, Win Top Mount Gloss Black
These precision built bases are machined to tight tolerances for a custom fit and fight the effects of recoil with a square cut notch that mates to the sturdy cross bolt in every Weaver detachable ring. Custom hardened fastening screws come with every Weaver base.
Also available...
| | |
| --- | --- |
| | 1-Piece Base, BSA, Colt, Remington, Top Mount |
| | 2-Piece Base, CVA, Traditions, Top Mount |
| | 1-Piece Base, Remington 1187/870 2007 & Later, Top Mount |
| | 2-Piece Base, CVA, Traditions, Top Mount |
| | 1-Piece Base, Winchester, Top Mount |
| | 1-Piece Base, Marlin, Top Mount |
| | 2-Piece Base, Beretta, Remington, Top Mount |
| | 2-Piece Base, Remington, Weatherby, Top Mount |
| | 2-Piece Base, Browning, Savage, Winchester, Top Mount |
| | 2-Piece Base, Modern Muzzleloader, Top Mount |
| | 1-Piece Base, T/C, Top Mount |
| | 1-Piece Base, Savage, Top Mount |
| | 1-Piece Base, Mossberg, Top Mount |
| | 1-Piece Base, Benelli, Top Mount |
| | 2-Piece Base, Remington, Top Mount |
| | 1-Piece Base, ZB 22 Hornet, Top Mount |
| | 2-Piece Base, Beretta, Remington, Weatherby, Top Mount |
| | 2-Piece Base, Remington, Weatherby, Top Mount |
| | 2-Piece Base, Browning, Savage, Winchester, Top Mount |
| | 2-Piece Base, Winchester, Top Mount |
| | 1-Piece Base, Sako, Winchester, Top Mount |
| | 2-Piece Base, CVA, Traditions, Top Mount |
| | 2-Piece Base, CVA, Traditions, Top Mount |
| | 1-Piece Base, H&R, Top Mount |
| | 1-Piece Base, Mossberg, Top Mount |
| | 1-Piece Base, Winchester, Top Mount |
| | 1-Piece Base, Remington, Top Mount |
| | 1-Piece Base, Remington Model, Top Mount |
| | 1-Piece Base, Winchester, Top Mount |
| | 1-Piece Base, Smith & Wesson, Taurus, Top Mount |
| | 2-Piece Base, Browning, Savage, Winchester, Top Mount |
| | 2-Piece Base, Winchester, Top Mount |
| | 2-Piece Base, Modern Muzzleloader, Top Mount |
| | 1-Piece Base, Remington, Top Mount |
| | 1-Piece Base, Marlin, Top Mount |
| | 2-Piece Base, Remington, Top Mount |
| | 2-Piece Base, Remington, Top Mount |
| | 2-Piece Base, Modern Muzzleloader, Top Mount |
| | 2-Piece Base, Mossberg, Remington, Savage, Top Mount |
| | 2-Piece Base, Remington, Winchester, Top Mount |
| | 2-Piece Base, Savage, Top Mount |
| | 2-Piece Base, Marlin, Remington, Top Mount |
| | 2-Piece Base, New England, Top Mount |
| | 2-Piece Base, Browning, Top Mount |
| | 2-Piece Base, Browning, Savage, Top Mount |
| | 2-Piece Base, Browning, Top Mount |
| | 2-Piece Base, Browning, Top Mount |
| | 2-Piece Base, Mossberg, Top Mount |
| | 1-Piece Base, Browning, H&R, Top Mount |
| | 2-Piece Base, Ruger, Top Mount |
| | 2-Piece Base, Browning, Winchester, Top Mount |
| | 1-Piece Base, T/C, Top Mount |
| | 1-Piece Base, Remington, Top Mount |
| | 2-Piece Base, Winchester, Top Mount |
| | 2-Piece Base, Winchester, Top Mount |
| | 1-Piece Base, Ithaca, Remington, Top Mount |
| | 2-Piece Base, Browning, Savage, Winchester, Top Mount |
| | 1-Piece Base, T/C, Top Mount |
| | 2-Piece Base, T/C, Top Mount |
| | 1-Piece Base, Remington, Top Mount |
| | 1-Piece Base, Marlin, Top Mount |
| | 2-Piece Base, Modern Muzzleloader, Springfield, Top Mount |
| | 2-Piece Base, BSA, Colt, Remington, Top Mount |
Item Info
| | |
| --- | --- |
| Item | 15652-2 |
| UPC | 076683480163 |
| Brand | Weaver |
| Model | 16 |
| Mfg No | 48016 |
Tech Specs
| | |
| --- | --- |
| Type | 2-Piece Base |
| Model | Marlin, Mossberg, Savage, Winchester |
| Style | Top Mount |
| Finish | Gloss |
| Rings Included | No |
| Purpose | Hold Accessories |
| Series | Top Mount Bases |